From Saturday 26th May to Sunday 27th May crowds flocked to West Sussex's Wiston House for the 10th anniversary of Big Church Day Out.
Set up in the large exhibitor's tent with VerseFirst postcards, Bible booklets, info about the new Live it Out Loud campaign and a large Instagram selfie board, we were overwhelmed by how many children, teens, parents, teachers, and youth workers stopped by to visit the stand.
"This is the second year we've flown to the UK for Big Church Day Out," said Sami from Austria. "There's no way that we wanted to be separated from a crazy, big gathering with God like this."
Future change-makers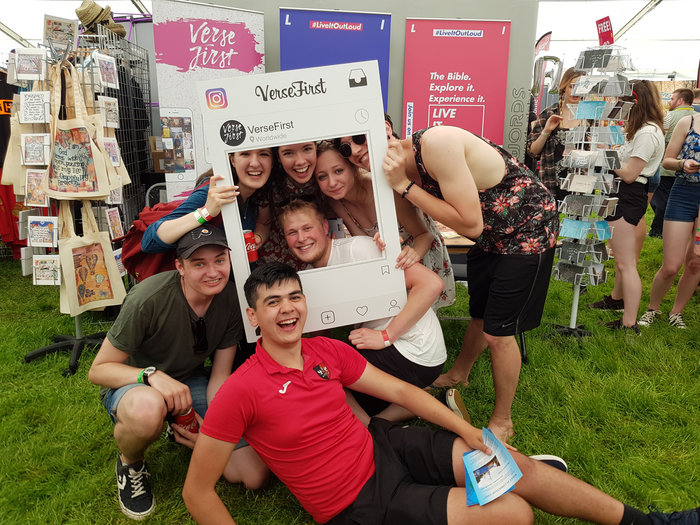 As we looked on at the busyness of the event we couldn't help but smile and hold back tears. In that moment of movement, we became immersed in God's stillness and reflected on the hope for the younger generation. Catalysts for change. Then in the midst of groups swarming to the stages for sessions of worship and prayer, two women stopped by the VerseFirst stand.
"This is insane," said Miriam from Switzerland. The artwork. The detail. The quality. The simplicity. I can't believe how effectively these booklets communicate the heart of Jesus' message to us. And it's all free... I don't know what to say." Astounded to meet another international visitor, we asked Miriam what drew her to the UK for Big Church Day Out. "My friends have been before and they told me all about it. They said it's something I can't miss so this time around I made up my mind that I wouldn't miss out. It's a blessing to be a part of an awesome festival like this where we can reignite our faith together. Sometimes we need reminders like this that we are not alone in our walk with Christ and that together we can make our world a better place."
One year on
Last year VerseFirst also participated in Big Church Day Out and launched Little Book of Chaos – one of the latest resources and opens up conversation around the Bible and mental health.
"I first heard about VerseFirst when my housemate at uni had the Little Book of Chaos in her room," said 21-year-old Laura from Bishop Grosseteste University. Eventually I went online and ordered my own batch as I was experiencing some mental health issues of my own. Furthermore I also meet with and mentor young people at church who have anxiety and depression. They've found VerseFirst really helpful so far and it provides a comfort while away from uni and friends over the summer too. Thank you so much for helping and supporting people with mental health and bringing God into it. Sometimes we struggle to see God in our low times, but Little Book of Chaos and VerseFirst's Instagram page (@versefirst) are so real and relatable. We don't feel like we need to pretend to be something we're not."
School's (almost) out!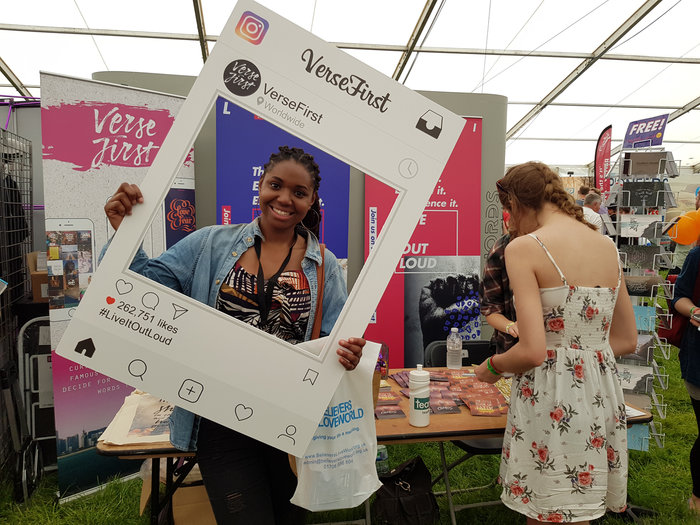 In the UK and other countries around the world, students are getting ready to break up from their various schools or colleges for the summer. A 2017 study from UK organisation National Citizen Service suggests that the summer holidays are now becoming one of the loneliest periods for young people in Britain, with 1 in 20 teenagers not expecting to see a single friend during their time off due to the rise of smartphones and social media.
"VerseFirst has been an awesome tool in my walk with God," says 18-year-old Louis. "At college we have Christian fellowship where we can meet up, have discussions and flesh out the Bible, but when you're on the summer break you do miss it. It's reassuring to know that we can have VerseFirst right on our mobile phones during the summer too. The encouragement not to get caught up in things like popularity is so relevant. There is a much greater message of hope, love and humanity."
The Bible exists for everyone, everywhere
Over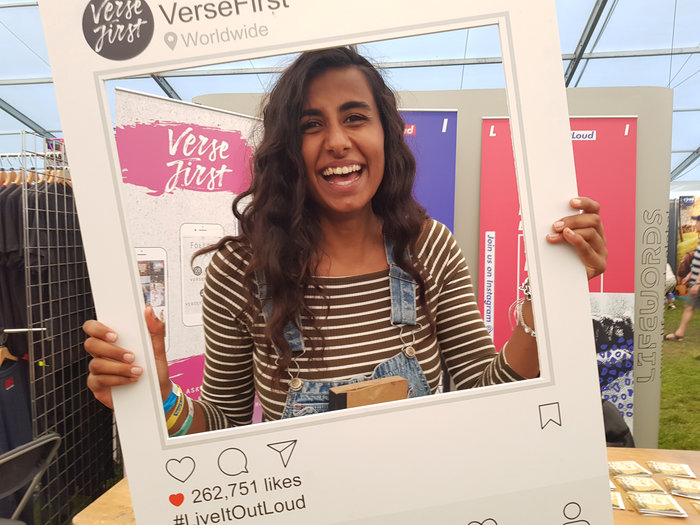 the two days we were hugely encouraged by the positive feedback received, and touched by stories like those of 23-year-old Sanya. "I work with refugees in Italy and the desperation for hope that you witness in their eyes is harrowing. I'm genuinely so grateful to have discovered VerseFirst today. These booklets are going to be treasured when I take them back to Italy with me. Thank you for making them free too. True generosity."
Nancy from China also shared her story with us. "Back home in China, apps like Facebook and Instagram are banned so it's really great having small booklets like Little Book of Chaos, Little Book of Faith and Little Book of Help available. The postcards with Bible verses are so beautiful as well. VerseFirst is like a special gem within treasure to me."
What another phenomenal year! Thank you to everyone who has joined us in creating and sharing new ways to experience the Bible as good news in our lives, in our communities and in our world.
www.versefirst.com
www.facebook.com/versefirst
www.instagram.com/versefirst
If you attended Big Church Day Out this year and stopped by the VerseFirst or Lifewords stand, please do get in touch. See you in 2019!