It's a hot August night, and thousands of teenagers are singing worship songs and listening to teaching together on showgrounds in Stafford, Peterborough, Malvern and Kinross.
This was the scene this summer as almost 2,000 young people responded to calls to make a faith commitment at Soul Survivor and Elim Limitless – two Bible festivals aimed at teenagers and young adults. Thanks to a partnership between Youthscape and Lifewords, all 2,000 of these young people received a card game, designed to help them take their first steps into Christian life.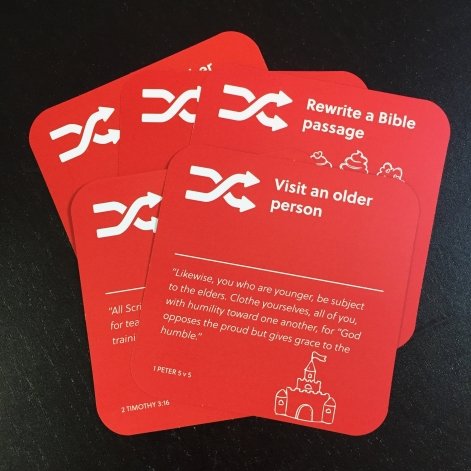 The game – designed by Youthscape and called Shuffle – gives young people 40 cards to work through, each with a Bible verse, something to provoke prayer, and a "practice" for them to do. Those practices range from telling someone about why they're a Christian, to practicing generosity, or choosing a way to serve others, or praying for a friend.
The challenge is to complete all 40 cards. Young people hand one card to a youth leader or another Christian, letting them know they're setting out on this new journey. Then their job is to tick off each card on an A4 poster that comes in the pack. If the card they pick feels too hard for today, then they can simply "shuffle" the deck and choose something else. Every day they'll be reading the Bible as they complete the tasks – and the pack includes cards prompting them to keep reading by following Lifewords' VerseFirst project on social media.
Youthscape creates resources and trains youth workers on a national scale – and they also do local youth and schools work in Luton.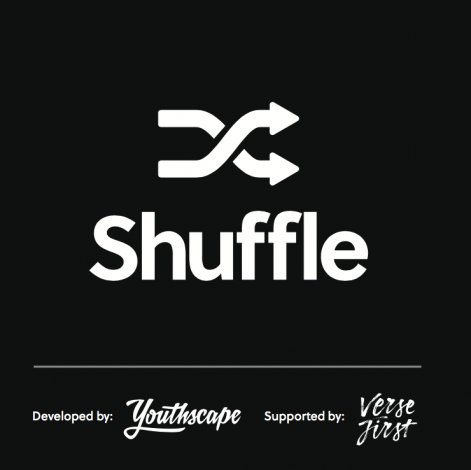 They've been using Shuffle there; Deputy CEO Martin Saunders says: "I am absolutely convinced that this simple bit of 'gamification' is helping significant numbers of young people pray, engage with the Bible (perhaps for the first time) and pursue God daily. It doesn't work for every young person – but nor does it only engage middle class, churched teenagers like so many other resources. We are seeing young people from poorer socio-economic backgrounds connect with the idea and with the content of Shuffle, and they're growing in faith as a result."
Shuffle is one of several ways (large and small) that we are experimenting with what it means to bring life words news to everyone – partnering with other organisations and focusing on people and places where the Bible is not necessarily known, or not known as good news.